Oil Tank Replacements / Installations:
Indoors vs. Outdoors Fuel Oil Tank:
We can't recommend enough that if you have the available room to install the tank indoors, it's by far the best place for it.  Why?
Outside tanks are subject to condensation inside the tank with changing temperatures putting water into your oil creating winter service problems & eventual corrosion inside your tank
Ice & water dripping from your roof can break oil lines coming from tanks
Outside tanks can settle or become unstable, creating an environmental risk
Outside tanks require the use anti-gel additives or a kerosene blend in the winter time to keep home heating fuel oil from "gelling" in extremely cold temperatures
WHEN AT ALL POSSIBLE –  THE TANK SHOULD  BE INSTALLED INDOORS!
Inspection of Home Heating Oil Above Ground Storage Tanks
Home heating tanks can leak due to improper installation or maintenance can adversely affect the environment and can lead to costly cleanups for the homeowner and the State. To avoid expensive oil spills, install new heating oil tank systems in accordance with National Fire Protection Association Code Standard 31 entitled "Installation of Oil-Burning Equipment" and perform routine maintenance on both old and new tank systems.The following checklist can aid you in proper maintenance of your home heating tank system. A diagram of a typical above ground home heating oil tank is provided.Ask the following questions and if the answer to any of them is "NO," contact Combined Energy Services. (It is best to contact a certified professional to correct the problem. Do not attempt to correct problems yourself.)
 Are tank legs and foundation stable?
 Is the tank surface free of rust, weeps, or excessive denting?
 Is the area around the filter and valves free of drips or signs of leakage?
Are the oil lines between the tank and the furnace enclosed in protective tubing?
 Is the tank protected from falling snow or ice?
 Is the tank vent unclogged and free of ice, snow, corrosion, or insect nests?
 Does the tank system have a vent alarm and is it working properly? (Ask oil delivery person if the alarm whistles when full.)
Are the areas around the fill pipe and vent pipe free of signs of spills?
 Are you using an average amount of oil for your system? (Using more oil than normal usually indicates a problem with your system.)
Typical Above Ground Home Heating Oil Tank System
New Above Ground Fuel Oil Tanks:
Standard Above Ground Steel Tank
Above ground fuel oil storage tanks by far are the simplest, require the least amount of maintenance and the most environmentally conscious choice when considering oil tanks.  Today's above ground tanks come in many shapes & sizes to fit every application and space within your home.
275 – 330 gal tank available in upright or horizontal/ lay-down
           Shown with recommended drip pan
Features:
Constructed of ASTM A1011 steel sheet to ensure high quality and years of worry free service
All welded construction
Every tank undergoes an external pressurized phosphate wash treatment and is then coated with an application of baking enamel for the best primer coat in the business
Tanks are equipped with 2 convenient lifting handles and leg brackets tapped to standard pipe thread, making installation quick and easy
We design and manufacture our own fittings to ensure high standards are maintained
Tanks range in capacity from 275 – 330 gallons and can be connected in series for more fuel storage
Fuel Tank Containment Tub
Meets EPA & NFPA requirements for 110% containment
Qualifies as a containment dike for NFPA 31 regulations
Will hold 275 or 330 gallon upright fuel tank
UL Listed
Protects your tank from rain, ice, snow & wind
Attractive addition to any home
Available in 5 colors
Indoor Tank Drip Pan: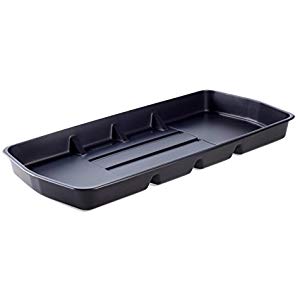 Catch a minor leak before it turns into a disaster with a polyethylene drip pan that easily fits under any 275 or 330 gal indoor tank.  Long length design encompasses valve & filter area as well, ensuring no leakage outside tray area.  Easy to install under any tank.  Two piece model available for existing tanks.
Double Wall Home Heating Oil Tanks: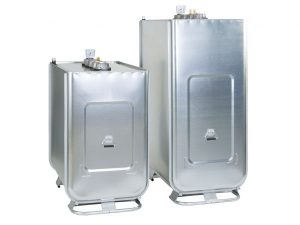 Roth Double Wall Tank
160, 275 and 400 gal capacity available
These tanks have a polyethylene inner tank that is enclosed by a galvanized, sheet metal outer jacket. The outer jacket is designed to hold and contain the contents of the inner tank, should a leak develop. The space between the inner tank and outer jacket is monitored by a gauge. Typically, these gauges use a sponge-like material which expands greatly when it comes in contact with a liquid, be it water or oil. The material swells and pushes a long, thin rod up so that the rod becomes visible at the top of the tank. It looks much like the pop-up indicator on some Thanksgiving turkeys that tell you when the turkey is completely cooked.
Underground Fuel Oil Tanks:
With today's growing concern about buried fuel storage tanks, the only underground fuel tanks that CES recommends and sells are double wall, polyurethane jacketed tanks.While many plumbers and contractors look for the quick, cheap installation – we never recommend nor would we sell a  "plain" steel fuel storage tank for buried service.  All steel in the ground will eventually deteriorate.  It's not a question of "if", it's a question of WHEN.  Very often these contractors are installing the cheapest tank they can buy, scratch the already too thin protective painted coating and rarely provide electric potential isolation through the use of magnesium anode bags or dielectric unions on piping connections.  These short-sighted quick buck moves put YOU as the property owner at risk in the long term.  One leaking fuel storage tank can lead to tens of thousands of dollars in clean-up costs.
The Highland STI-P3A Double-wall fuel tank is designed for storing home heating oil, kerosene, bio-fuel and diesel fuel. This tank combines the strength of steel with a factory-installed corrosion protection system . The protection system consists of three parts: a coating with high dielectric properties (100% solids Polyurethane), electrically isolated fittings and sacrificial anodes. Nylon bushings isolate the tank from piping.  This tank ensures your highest standard against leakage.
Fuel Oil Tank Removal, Soil Remediation & Tank Replacement:
If your buried fuel tank is over 20 years old, we highly recommend you consider having the tank removed from service before you have a problem.
Removal of 550 gal fuel tank

Replacement of 3000 gal fuel tank

Rotten aboveground, outdoor 275 gallon tank that was laying on the ground behind a home.  A 200 gallon leak can cost $50,000 to remove dirt and clean spill of which most home owner's insurance doesn't cover.

Preventing Underground Storage Tank Releases:

The USEPA Web-Site below has a wealth of information on the prevention of underground fuel storage tank leaks as well as regulations.  USEPA

"NYS Dept of Environmental Conservation (NYSDEC) Homeowner's Guide to Underground Heating Oil Tanks"  http://www.dec.ny.gov/chemical/32263